BORDALYN was originally established in the 1970s for the purpose of breeding show quality English Springer Spaniels. After 10 highly successful years, I closed the kennel and moved to Florida. My daughter, Lynn, continued with the Springers and her two oldest children began to show in Junior Showmanship.
In 2009, I bought my first Aussie (see photo). Today, our homes and kennel are on 10 beautiful acres in southwest Georgia, with the purpose of raising my grandchildren in the love of Christ, of breeding and showing Australian Shepherds that excel in temperament, soundness and quality and finally providing a safe and peaceful environment for our horses.
As many Aussie breeders and owners will tell you, the Australian Shepherd is not for everyone. While they are wonderful companions and family dogs, they require a firm, but loving hand, lots of attention and exercise, obedience training and a job to do every day. They also shed and require regular brushing. (I have learned, however, that dog hair spread around your vegetable plants keeps the deer and rabbits away. It's pretty good at keeping the weeds away, too.)
We are located in Albany, GA. and are a small, family operation dedicated to raising Australian Shepherds that are sound in mind, body and temperament. First and foremost, our dogs are our house pets. Getting along with each other (mostly), the cats, the kids and the horses is absolutely required. We train and show in breed, obedience and agility.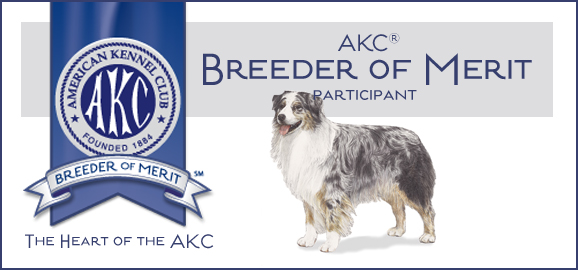 As for me and my house, we will serve the Lord. Joshua 24:15